Ready for Your Career to Take Off?
Working at NE-XT, you'll play a pivotal part in providing the highest-quality complex, close tolerance and precision-machined components and assemblies to our customers. Is the work challenging? You bet, and that's just the way we like it!
Ready for your career to take off? The sky's the limit at NE-XT. As an employee, you'll be rewarded with an exceptional benefits package and opportunities to learn and grow. How high will you go? That's up to you.
We're searching for highly skilled people with expertise in CNC programming, setup and operation, but we also train people with no experience through our in-house, paid job training program.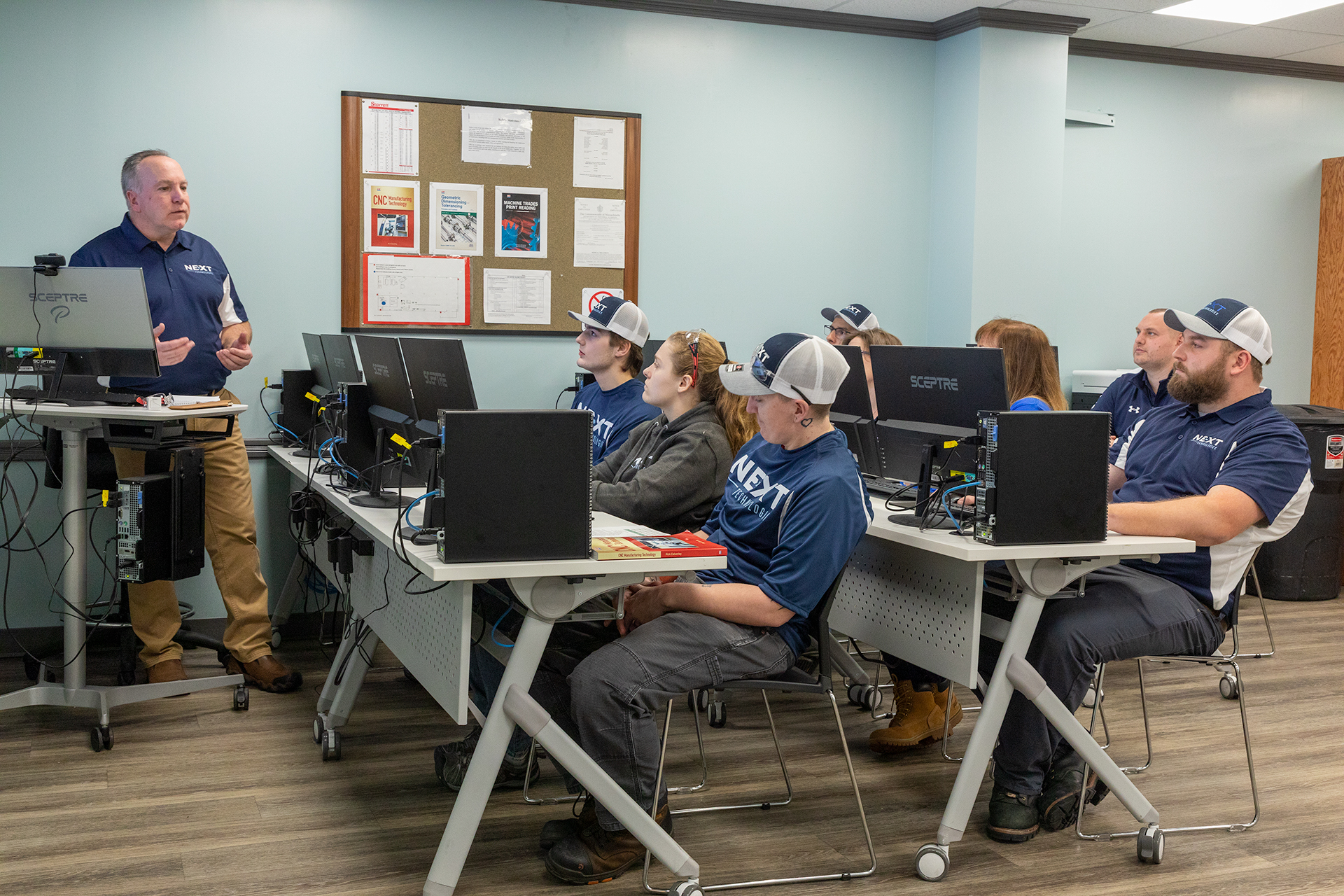 We are always looking for qualified applicants for the following positions:
Engineering
Quality
CNC operators
Janitorial
Maintenance
And more!
Employee Benefits
We offer highly competitive salaries as well as a robust benefits package to our employees.
Our benefits include, but are not limited to:
Paid training programs for entry-level employees
100% tuition reimbursement for continuing education
Leadership training programs
Competitive personal and vacation schedule for the first year and beyond, plus flex time
Blue Cross Blue Shield medical plan with 100% of monthly premium paid by NE-XT
Dental and vision plan
401k with 100% match up to 5% of pay
Financial support for parental leave
Reward programs for outstanding work
Pre-tax flex medical savings and childcare accounts
Annual personal protective equipment and work apparel allowance
Workplace Culture
We work hard to create a culture of collaborative growth and a shared purpose of excellence. Our workplace is a supportive and encouraging environment that gives you the ability to learn and grow within the company.
Our in-house, paid job training program provides mechanically inclined, hardworking people with the skills they need to be productive and knowledgeable employees. When participating in our training program, you are not limited by what you know, but rather how hard you train. We're committed to providing a workplace that allows all employees to work to the best of their abilities. Beyond our clean, air-conditioned work environment, we take employee health and safety extremely seriously and teach our team members how to proactively keep themselves and their colleagues safe. Paid half-hour lunch/dinner breaks in our comfortable break room with a TV give you the chance to recharge and refocus.